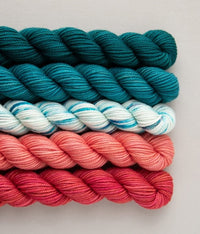 Party of Five Superwash DK
"Party of Five" mini-skein sets are an easy way to play with colour without the worry of mixing and matching yourself. We've kicked things up a notch by introducing sets in our popular Superwash DK!
Our Superwash DK yarn is as soft and wearable as it is strong and luxurious. Whether you need a perfect pairing of hues for your new colourwork sweater or desire a multi-coloured accessory for the cold days still ahead, these three curated palettes are a colourful treat!
Consider a colorwork section in your favourite top-down yoke sweater, cozy socks, or a squishy accessory! We recommend trying any of these three sets in patterns like Sunset Lines by Meg Roke, Watermark by Holli Yeoh, A Little Lift by Tabetha Hedrick, or Yorkshire Diamonds by Mona Zillah.