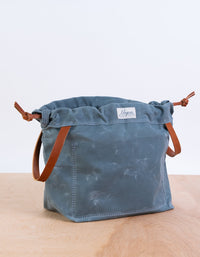 A simple, classic, and everyday project bag that ages beautifully and gets better with use.  Designed by knitters with Casey, we think it is simply the perfect project bag!
Handmade by Casey of Magner Co. in Athens, GA using waxed canvas, brass grommets and bridle leather.
Includes:
Pattern Pocket - 10" wide x 6.5" tall with 3 solid brass grommets designed to hold folded patterns and allow for tangle free knitting on the go.
1 zipper pocket sized at 5.5"wide x 5.5" tall with a slot behind for quick access to phone/keys/etc.
3 slotted pockets sized at 2" wide x 5.5" tall for needles, sunglasses, etc.

This is the original size which is 10 inches wide by 10 inches tall by 6 inches deep.