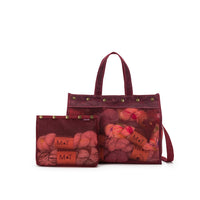 Maker's Mesh Tote by DellaQ
New from DellaQ!  One part Tote, one part Rucksack, the new Makers Mesh Tote is a larger-sized, fully transparent project bag designed with warmer days of making in mind. Created to be carried in two different ways as a crossbody or shoulder bag, this bag boasts enough interior space to hold 10+ skeins or medium-to-large sized projects. It comes standard with a matching clip-in Scissor Pocket, exclusive canvas Oh Snap bag, and an adjustable strap.
We love this bag for a variety of reasons!  The size is perfect, the mesh allows you to see what's inside, the snaps close the bag while still allowing you to run your yarn between the snaps without catching.