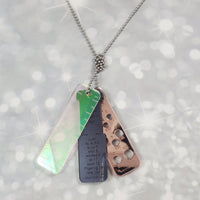 Tiny Tool Necklace by Katrinkles
t's time to sparkle and shine with our Holiday 2021 Collection. 
These pendants on this Tiny Tool Acrylic Necklace are cute as well as useful. They'll make a great gift for your best knitting friend or an easy to wear accessory to keep for yourself.
Necklace includes tiny tools (WPI, Knitting Needle Gauge, 2" Ruler) in rose gold mirror, gray mirror, iridescent unicorn acrylic.