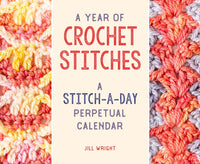 A Year of Crochet Stitches Perpetual Calendar
A Year of Crochet Stitches by Jill Wright is a Stitch-A-Day Perpetual Calendar.
This standing desk flip calendar showcases a new stitch pattern for every day of the year! ate Build your skills with lace and filet to shells, colorwork, and more. Great gift for crocheters! Use this perpetual calendar year after year.