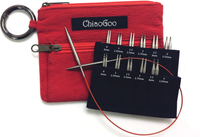 ChiaoGoo Twist Shorties Set
Authentic set from an authorized Chiaogoo store.
Make 9″ (23 cm) through 14″ (36 cm) circulars with ChiaoGoo TWIST SHORTIES!  The most recent addition to the TWIST interchangeable system this set includes:
12 pairs of 2″ & 3″ (5cm & 8cm) solid, surgical stainless steel tips US0 (2mm) – US3 (3.25mm) in a secure tip sleeve
three MINI diameter red cables, end stoppers, tightening keys
connectors
stitch markers
a mini needle gauge
red, pocket-sized nylon fabric pouch. 
The tips have a tightening hole to ensure you get a secure connection.