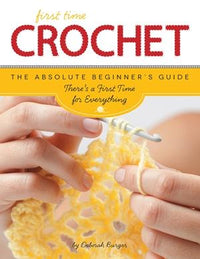 First Time Crochet by Deborah Burger
Learning how to crochet has never been simpler! Enjoy this beginner's guide that takes you by the hand, like a personal instructor, and teaches you how to crochet. With detailed descriptions of materials and tools, the easy step-by-step instructions for all the basic crocheting techniques will have you creating projects like boas, coasters, and even slippers and bags in no time.
Eight simple projects will introduce crocheting skills like basic stitches, chaining, increasing and decreasing, and color techniques; skills you will use often as you continue to learn. With First Time Crochet, soon you will be stitching amazing gifts and projects with confidence.
Softcover
ISBN:  978-1-58923-825-1