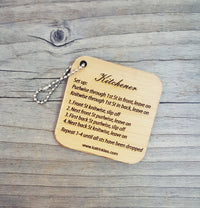 Kitchener Stitch Mix-and-Match Mini Tool
These lightweight, 2" square keychains are a handy tool to have along inside your knitting bag or to hang outside your knitting bag.  They are made of 1/8" alder hardwood and have kitchener instructions clearly laser cut onto the front. 
Because they are made of a natural material, the appearance of each keychain may slightly vary.