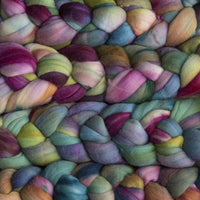 Malabrigo's ultra-soft merino is now available as unspun top, in a selection of their most beloved hand dyed colorways. A joy to spin, Nube is full of fluff and loft and unmatched softness!

Great for: Spinning, thrums, needle-felting, wet-felting, accessories, weaving, other arts and crafts projects.

Note: colors shown on photos are illustrated as reference, they can differ on more or less of one tone, due to the hand-dyed process.
Hand Wash, cold water, dry flat