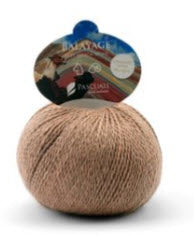 Balayage is Pascuali's latest creation, developed in collaboration with famous designer, and good friend, Melanie Berg alias Mairlynd.
The special feature of this yarn is its mottled grey shade, which has been achieved by combining 80 percent white and grey baby alpaca with 20 percent white organic merino wool. This combination creates a color gradient with a very natural hand dyed feel, resulting in a harmonious color palette with limitless possibilities. 
Balayage is perfect for shawls and scarves.  It also lends itself beautifully to sweaters and cardigans and its fine stitch definition is ideal for cables, lace and colorwork such as Fair Isle.
The mixture of delicate baby alpaca and fine merino wool makes Balayage a yarn that is soft and gentle on the skin.  It can be worn by those with the most sensitive skin and is also suitable for babies and children.
Fingering, 80% Baby Alpaca, 20% Organic Merino

50 grams, 190 yards
Handwash, lay flat to dry