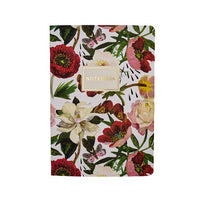 Peonies Notebook from BV at Bruno Visconti
These gorgeous A5 notebooks are perfect for Knitting Notes or any notes for that matter! 
Notebooks are made from 70gram acid-free paper with a coated "soft-touch" 190gr cardboard flex cover. Each notebook features stitched binding that will not crack, paper will not smudge and art featured in inside front and back cover. Inside each notebook includes a place for your name/info and a "notes" page at the end.