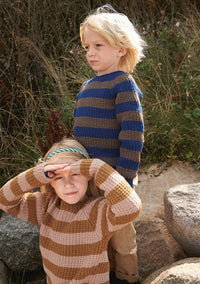 Pontus Stripe Sweater 2110 No 6
Pontus Stripe Sweater is worked from the neck down, with increases for the raglan and turning rows at the neck to create and shape the front neckline.

Made with the yarn Sandnes Garn Sunday worked double (2 strands).
Purl rib pattern stretch easily by washing and tension will change. Sweater will seem a little tighter and longer after washing than intended.
Tips: Work a small sample, measure it before and after washing and drying
before starting the garment.
Worked in Sandnes Garn Sunday yarn
Note: This is a full color printed pattern, not a download