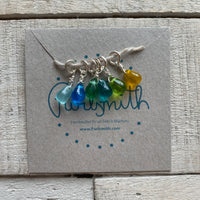 Purlsmith Glass Drop Stitchmarker set
A set of 6 colorful, organically shaped glass dropstitch markers that are lightweight and beautiful.
Fits up to and including size US3 / 3.25mm
As always, all Purlsmith markers are created with soldered loops meaning they will not open or catch on your project.
Each set is unique so colors may vary, if you are looking for specific colors, put a note with your order and we'll see what we can do.