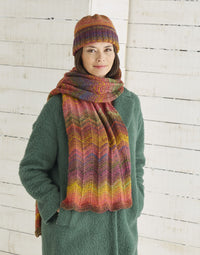 Sirdar Jewelspun Pattern 10027 Scarf and Hat
Choose from the rich colours with instructions for sizes from Sirdar Jewelspun to create this chevron knit scarf and ribbed hat. Suitable for intermediate knitters, this wide scarf uses simple increases and decreases to create the chevron design, while the stripes are created by our Jewelspun yarn.
You will also need: Single Point Needles 5mm (USA 8) and Single Point Needles 4mm (USA 6).