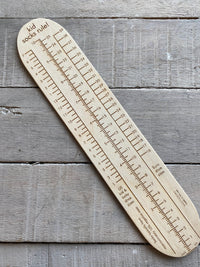 Socks Rule! Ruler for measuring socks - Kids Sizes
Slip this ruler right into your sock while it is still on the needles to easily gauge when to start the toe (or the gusset/heel if you are knitting toe-up socks). Also great for measuring the height of your cuff.

Inches, Centimeters, US Men/Women and Euro show sizes are etched on the ruler making it exceptionally helpful to use.

Measure foot length by standing on the ruler. We suggest doing this against a wall so the part of the heel that sticks out the most is in line with the edge of the sock ruler.  Adult socks typically have 10% negative ease and measure approximately 1/2" or 1.3 cm shorter than the foot length and 1" or 2.5 cm smaller than the leg or foot circumference. This information is etched onto the sock ruler as a reminder.
Back Side of the ruler is branded with the GarenHuis logo.