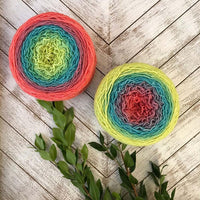 Blossoms Gradients by Wonderland Yarns
Super Squishy center pull gradient cakes on the base 'Maryann Sock' from Wonderland Yarns.
4oz (approx 113 grams), 475 yards
85% Superwash Merino, 15% Nylon
28-30 sts = 4"
Note:  Listing is for one blossom skein.  Each photo shows 2 skeins of a color wound in opposite directions.  One blossom will make a pair of socks but they will not match...you would need two skeins to make matching socks.