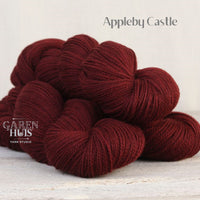 Amble is a lovely new fingering weight sock yarn made from a blend of eco-friendly washable wool and alpaca for comfort as well as recycled nylon for strength.  Amble was designed especially for sock knitting, but it is a soft and durable yarn that is also great for easy-to-care for sweaters and accessories.
Fingering
100 grams, 355 yards
70% Easy Wash Merino wool, 20% Easy-wash alpaca, 10% recycled nylon
Machine wash on wool cycle or hand wash at 30C/86F.  Dry Flat.
 Pair with Amble Mini Skeins

Easy-wash is a trademarked name that refers to a process used to make the wool and alpaca fibers in Amble machine washable without shrinking. The Easy-wash method is chlorine-free and AOX-free, making it the best environmental choice for producing machine washable wool. The wool and alpaca fibers are treated with eco-friendly oxidants to remove the scales that ordinarily cause wool and alpaca to shrink when washed by machine. The oxidants used are sourced in Germany and are certified under the REACH, Oeko-tex and ZDCH (Zero Discharge of Hazardous Chemical) standards. This means that the Easy-wash treatment does not create hazardous chemicals, which is not the case with most machine washable wools in today's market.